"I am so happy that my husband and I signed up for Seattle Hypnobirthing before our second birth. We had a difficult first birth, which ended in a c-section, and I really wanted a VBAC for our second birth. The class focused on positive birth experiences, and allowed me to release all of my fears built up from the first birth. It gave me the tools I needed to relax and truly believe in my body's ability to give birth. Tracy was down to earth and very approachable making us feel 100% comfortable with whatever our birth choices were. Without her encouragement, I don't believe that my husband and I would have openly discussed our true feelings about our first birth. Thanks to Tracy and her class, we had a beautiful second birth where I felt truly supported. Thank you Tracy!" ~Kim
"Kira's Hypnobirthing class provided us with an excellent set of tools that helped make the natural birth of our son go smoothly. We learned a lot about our low-pressure options for birth, used the relaxation techniques she taught us to stay comfortable during labor, and confidently avoided elective medical intervention.  It was so satisfying to have an alert healthy baby nursing at my breast within a half an hour of his entry into the world.  I give a lot of credit to Kira's class for the confidence we brought with us to the hospital, and I couldn't have asked for a better result." ~Karen
I would recommend the Seattle Hypnobirthing and instructor Tracy Adams to any expecting mom – regardless of what type of delivery you are planning or expecting, this course will help you.  Before this class we were scared, apprehensive and worried about our child's birth. We are now confident and excited about the birth of our first child after this course. Tracy is a wonderful teacher and hypnotherapist.  We were skeptical about Hypnobirthing and what to expect, but this was the best class we have done in preparation for the birth of our first born. Thanks to Hypnobirthing we are both very confident about the birth and ready to experience whatever might come at us during the experience. Hypnobirthing and Tracy changed our whole outlook on the birthing process – that being relaxed and calm is how babies are born into this world and have been since the beginning of time – birth of a child is a natural event, not a medical event (even though we are delivering at Swedish First Hill).  Thank you Tracy for everything! ~Stacia
"My husband and I loved our hypnobirthing classes. Not only were we provided with the knowledge and relaxation techniques for a safe and natural birth, but also our relationship was strengthened as we prepared for the birth of our son. During the classes we learned new things about each other after nine years together.  I knew he would do anything for the two of us. He knew what I needed from him to help us bring our son into the world. I undoubtedly recommend the hypnobirthing techniques to anyone who's interested in a calm, relaxed, natural birthing environment". ~Babette
We loved our hypnobirthing class experience! My Husband is in the military and with a flexing schedule he may be deployed around the time of our baby's arrival. Kira was wonderful working with a party of 3 (my Husband, birth coach, and myself) and the techniques allowed me to address the fear and tension surrounding his departure in a healthy natural way. I left the class feeling confident and secure in my ability to have a natural birth regardless of the uncertainty our situation presents! I would definitely recommend it!" ~Evey
"Before we took the class, I harbored fears of the unknown. What would labor be like? What if we had an emergency procedure? The HypnoBirthing class that we took really opened up our eyes to self-advocacy and care. She not only gave us the fundamental tools for a calm, relaxed birth, but helped us gain confidence in the labor room. Fundamentally, the Mongan Method makes the concept of birth to be something that we can control. Now, I no longer fear the advent of labor, but embrace it." ~June
"Kira's HypnoBirthing class was essential to my comfort and joy during both the birthing process and the pregnancy of my baby boys. Being pregnant with twins made it difficult to assume that a natural birth would be viable and I did end up going through with a cesarean (both babies were breach). However, I was able to carry the boys full term and my hospital experience was really pleasurable. Both the breathing and imagery techniques that we learned in Kira's class helped me maintain a sense of calm and acceptance throughout my cesarean experience. I truly don't believe I would have carried my boys so long and as a result been able to breastfeed them so easily if it weren't for my relaxed state of mind. It also helped that Kira was pregnant with twins at the same time! Kira is such a joyful instructor I would take her class again and again." ~Oh
"Even after all (my) internet research, I really wasn't sure what the method entailed… all I knew was labor looked painful and horrible but I was determined to find a way to "deal" with it naturally. It only took the first night of class for Kira to entirely shift my paradigm about labor. In the matter of 3 hours I went from fearing my life to actually embracing the idea of a natural labor and being excited about the process. It was absolutely incredible how severely my perception changed over the 4-week course. Overall, the course material was engaging and helpful, and Kira's delivery left nothing to be desired. Most importantly, I'm now 4 weeks post-partum and my opinion of the material/course has been validated! Using the many breathing and position techniques, I was able to labor without pain meds for 28 hours….Thank you Kira!" ~Courtney
"It was a wonderful way to connect with like-minded mamas. I love mind-body techniques and am excited to incorporate HypnoMothering into my repertoire. What a caring, compassionate, and meaningful tool for motherhood! THANK YOU!"
"HypnoMothering was the perfect finale for the Hypnobirthing class experience. It helped me think beyond the birth about the kind of challenges I'll face as a new mom and how I want to be proactive in calmly meeting those challenges. HypnoMothering gave me a practical set of tools to rely on when stress and anxiety threaten to overwhelm. I feel much more prepared to be the kind of mama I've always hoped to be–one who can model kindness, patience, self-care, and perhaps above all, a peaceful way of handling even the most difficult moments."
"HypnoMothering was a fabulous class. Of course it makes sense to apply the HypnoBirthing techniques to the postpartum period and it was great to break it down and begin conceptualizing what that period will/can look like. I feel much more confident as I think about coming home with baby now that I have some tools in my back pocket."
"HypnoMothering…was so relaxing. I have learnt techniques to find peace during times of stress and chaos, and at the same time I can remain alert to my responsibilities. I enjoyed the reflective exercises because I was able to observe myself without going into reaction and in some way this helped me to except things as they are."
"What a great class! I am so glad I went. I learned a lot of wonderful tools to help me cope with stress, lack of sleep and general frustration. I am excited to begin practicing."
"Thank you so much for adapting your HypnoMothering program for the mothers of toddlers and preschoolers! I am already noticing a difference using your techniques. My 3 year old noticed them as well and asked me to teach her the 3 breaths (HypnoMama Breath) which has been both our favorites. A great class I would recommend to anyone seeking to find more peace within the mothering journey."
"I found the HypnoMothering class helpful to talk with other moms and expecting moms, as well as learn techniques to calm my mood if feeling overwhelmed or frustrated. I have already used the 3 breathing techniques and positive imagery and found myself feeling more "at ease" in the situation at hand.
Thanks for having such a powerful course that can help in so many ways, in parenting and beyond."
"The HypnoMothering class calmed my anxieties about the first few months and gave me real, tangible solutions to help me deal with the transition. I feel so much more prepared, at ease and excited! Every mom-to-be, and even those with kids already can benefit from this class."
"The tools that Tracy and Kira provide in their HypnoMothering course are incredibly useful! I am practicing HypnoMothering breathing regularly. In many ways, I wish I had taken HypnoMothering before my daughter was born…on the other hand…the material lands in a more effective way now that I know what I'm dealing with emotionally. I'm looking forward to using the audio hypnosis soon!"
"HypnoMothering has given me tools to find some calm in the new baby storm."
"The HypnoMothering techniques are very useful and I look forward to using them. I also loved having the support of other pregnant women in the group and the ability to bounce ideas off of one another."
"This class is anchored in much that I've been reading and talking with friends about regarding becoming a mother."
"I really enjoyed the class and would certainly recommend it to others looking for a similar labor and birthing approach. The handouts were great and I appreciate having access to audio downloads. The size of the class was comfortable for questions and interaction. Your availability for questions etc is also appreciated. Thank you for a great experience."
"A concise course jam packed with a variety of relaxation techniques to help cope in the tough times of new motherhood. I'm excited to listen to the download tracks as I found the Hypnobirthing tracks very useful."
"It was GREAT!"
"I enjoyed the class! I feel confident that I have a lot of tools that I can use to remain calm once my baby arrives. Thanks!"
"HypnoMothering equipped me with some additional tools for releasing fear and tension for after my baby arrives. It also brought up things I hadn't thought about or prepared for to this point."
"Wonderful class! very insightful… lots of great tools that I am looking forward to using once baby arrives."
"I am looking forward to using the techniques we learned in class. I have already found the breathing techniques from hypnobirthing class to be very beneficial in my everyday life, and find that I have more patience and feel calmer and more content in general, by utilizing the techniques. I think the hypnomothering class is a nice way to wrap up the hypnobirthing series."
"Simple, practical tools to help me on my journey. A lovely space to just "be" for a couple of hours during the course."
"Thank you so much for a wonderful, relaxing afternoon. I don't know if it was just having a kid-free break out of the house, or the opportunity to share my parenting experiences with a group of lovely ladies, or the calm breathing, or a combination of all, but I walked out feeling so refreshed. Better than I feel after a massage!"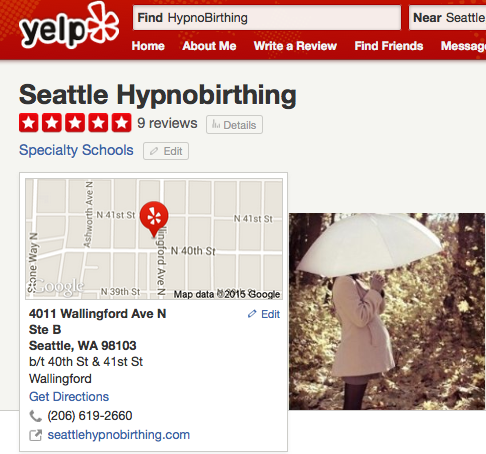 General Information
Location
4011 Wallingford Ave N,
Suite B, Seattle 98103
Cost: $325
Tuition includes $50
non-refundable deposit
Tuition includes all materials
Sessions:
• 5-session HypnoBirthing series
• Breastfeeding & Newborn Care Workshop
• HypnoMothering Session
• Plan B Session (optional, $30 additional tuition)
Makeup Policy
We do our best to provide a makeup policy that balances convenience while maintaining the integrity of the HypnoBirthing program. With this in mind, we reserve space in each group for one makeup couple in each series (seats reserved on a first-ask basis), with some limitations (see below). When a group makeup class is not available due to schedule or capacity limitations, private sessions may be arranged for a fee of $125 (depending on teacher availability).
Class 1 and Class 2: These sessions are the foundation for HypnoBirthing's theory and techniques and may not be taken out of sequence. If you know in advance that you cannot attend Class 1 or 2 in your series we may be able to accommodate you in an earlier class series free of charge.
For all other classes when space is available you're welcome to make up with another group free of charge.
Private Classes
Private classes are available and for mothers on restricted activity online sessions may be an option. Please contact us for more information.